Novi's Top-Rated Cabinet Refacing Company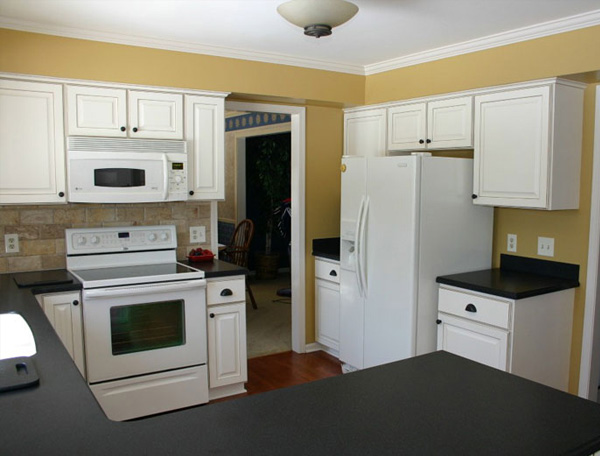 Extraordinary Kitchens is a leading kitchen remodeling and cabinet refacing expert, providing full-service kitchen design and installation solutions for homeowners in Novi and across Southeast Michigan. Extraordinary Kitchens employs some of the most talented and service-oriented kitchen professionals in the industry including designers, cabinet-makers, and installers.
We're dedicated to working closely with our customers to create unique and extraordinary designs that fit their personality and home aesthetic. With our extensive of kitchen design, kitchen products, and kitchen renovation, we can give you qualified advice and opinions that will help you achieve the perfect combination of beauty, functionality, and ensuring that you are making a sound investment into improving your home value.
---
A Reputation for Excellence
Our kitchen design, cabinet refacing, and kitchen remodeling services have won numerous awards, including the Angie's List Super Service Award, presented for maintaining an impeccable track record of customer satisfaction. Additionally, we maintain an A+ rating with the Better Business Bureau.




---
Full-Service Kitchen Remodeling and Renovation in Novi, MI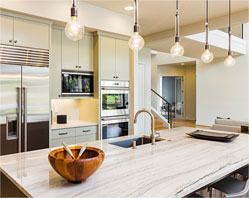 Nothing breathes new life into a home quite like a complete kitchen remodel! Not only is kitchen remodeling the leading way to add value to your home, it can increase your space, comfort, and quality of life. Whether you are looking to update to a modern kitchen environment, or you prefer a classic and rustic look for your home, we work closely with our customers to help achieve their vision. Part of our commitment to service means we always strive to stay within your budget and work around your schedule.
Our professional team of kitchen design and remodeling experts can transform any cramped, outdated, or worn out kitchen into the beautiful, functional, and spacious kitchen you've always dreamed of. With our complete kitchen remodeling services, we handle all aspects of your kitchen renovation project -- from the initial free design consultation to a professional installation performed by licensed, insured, and highly experienced kitchen renovation contractors.
Replacing or refacing cabinets and countertops

Countertop installation and finishing

Complete lighting design and installation services
Plumbing fixture and appliance installations

Custom cabinet building and finishing

Detailed carpentry performed by licensed builders

And much more!
Professional Cabinet Refacing Services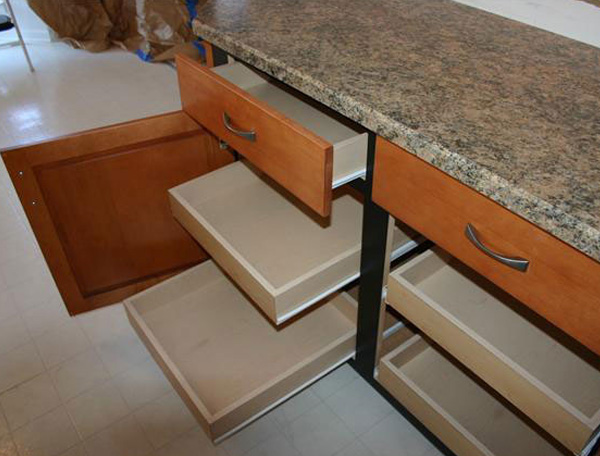 Cabinet refacing is the process of replacing your cabinet doors, drawer fronts, hinges, hardware, trim, and moldings, while keeping the existing frames. Refacing gives you the option of changing the look of your kitchen without tearing out the existing cabinets.
With years of experience providing cabinet refacing for a wide variety of kitchen and cabinet styles, we have skills and knowledge needed to give your kitchen a fresh, new look without the high cost and disruption usually associated with kitchen renovation.
Cost-Effective
Choosing to reface your cabinets costs up to 50% less than a full cabinet replacement, allowing you to save money -- or put more money towards new countertops, sinks, faucets, or other kitchen amenities.
Save Time and Hassles
Cabinet refacing is significantly faster and less disruptive than a complete replacement, meaning your kitchen will have a fresh, new look before you know it!
Add Home Value
With cabinet refacing, you can increase the value of your home with a much smaller investment and budget.
Prevents Waste
Why toss perfectly good frames in a landfill, when the areas that actually show wear and tear are your doors, hinges, and moldings?
How Does the Cabinet Refacing Process Work?
The refacing process begins with the removal of the original cabinet doors, drawer fronts, hardware, and trim. All exposed cabinet surfaces (the sides, ends, bottoms, and face frames) are permanently bonded with high-pressure laminate or real wood veneer to match the color of your new cabinet doors and drawer fronts. Then, your new handcrafted cabinet fronts are installed with new hinges, hardware and trim moldings.
Why do so many Novi homeowners choose us?
"I disliked our old kitchen so much. It was depressing. In our former home, we practically lived in our kitchen. We talked to two other kitchen remodelers at the home and flower show and they were talking $40,000 to $50,000 for what we wanted. No. It was actually more like what they wanted. The first difference we noticed with John is that he was more interested in hearing what we had to say than what he had to say. We were astonished to find out that we could actually get everything we wanted and stay within our budget. Extraordinary Kitchens are not just good at listening, they're good at working with you to create the kitchen you want at the price you can afford." Edward & Joann A. from Royal Oak
"We had our kitchen cabinets refaced. We are very pleased with the work and professionalism. The cabinets look and work great!" Armin L. from Northville
---
Are you looking for inspiration for your new kitchen? Schedule your free in-home design consultation today to get started!