Cabinet Refacing in Livonia, MI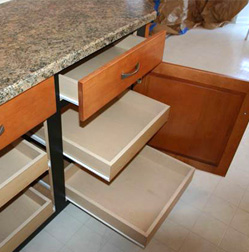 Extraordinary Kitchens is the leading provider of professional cabinet refacing in Novi, Livonia, Northville, Plymouth, Ann Arbor, and throughout Southeast Michigan.
With years of experience providing cabinet refacing for a wide variety of kitchen and cabinet styles, we have skills and knowledge needed to give your kitchen a fresh, new look without the high cost and disruption usually associated with kitchen renovation.
---
What is Cabinet Refacing?
Cabinet refacing is the process of replacing your cabinet doors, drawer fronts, hinges, hardware, trim, and moldings, while keeping the existing frames. Refacing gives you the option of changing the look of your kitchen without tearing out the existing cabinets.
The Benefits of Cabinet Refacing
Cost-Effective
Choosing to reface your cabinets costs up to 50% less than a full cabinet replacement, allowing you to save money – or put more money towards new countertops, sinks, faucets, or other kitchen amenities.
Save Time and Hassles
Cabinet refacing is significantly faster and less disruptive than a complete replacement, meaning your kitchen will have a fresh, new look before you know it!
Add Home Value
With cabinet refacing, you can increase the value of your home with a much smaller investment and budget.
Prevents Waste
Why toss perfectly good frames in a landfill, when the areas that actually show wear and tear are your doors, hinges, and moldings?
Is Cabinet Refacing Right for My Kitchen?
If you want an updated look for your kitchen, and you are happy with the current layout, or you would like to make minor changes to your layout, then Extraordinary Kitchens' cabinet refacing is for you. Extraordinary Kitchens' cabinet refacing gives you a fresh new look with a minimum of dust and disruption. Your new kitchen can be completed in just a few short days and at a significantly lower cost than cabinet replacement.
---
What is the Cabinet Refacing Process?
The refacing process begins with the removal of the original cabinet doors, drawer fronts, hardware, and trim. All exposed cabinet surfaces (the sides, ends, bottoms, and face frames) are permanently bonded with high-pressure laminate or real wood veneer to match the color of your new cabinet doors and drawer fronts. Then, your new handcrafted cabinet fronts are installed with new hinges, hardware and trim moldings. Extraordinary Kitchens can also install beautiful new countertops, sinks, faucets, replacement drawer boxes and add pullouts and a variety of accessories to complete the transformation.
Are you ready to transform your kitchen? Get started today by instantly scheduling a free, in-home estimate or contact us to learn more about our professional cabinet refacing services.
<